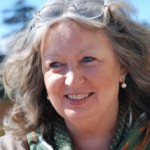 Background
Monica Walsh is a natural healer whose gifts manifested spontaneously and unsolicited in 1990 when, chronically exhausted from debilitating illness, she had just given up a hectic position in television programme-making to create the time to heal herself.  A translator by profession (Inst. of Linguists' post-grad level Dip.Trans.), she also worked with the United Nations and other international organisations in Paris, Rome and several African countries.  Her working life, however, began with RTE Television in Dublin where she was trained in TV programme production and – both before and after her time abroad – worked on award-winning programmes such as the satirical "Hall's Pictorial Weekly" and the flagship current affairs programme "Today Tonight", as well as documentaries, arts and drama.
Turning Point
By 1990 health problems and burn-out resulting from a long-undiagnosed illness and the impossibility of recovery without rest compelled her to leave her job to obtain that "time out", and to sell her home in order to fund it.  With months of this traumatic upheaval the healing gift manifested spontaneously, through direct touch.  It took a year for her to come to terms with the mystical experiences which had preceded this moment and to realise they were intended to leave her in no doubt as to the Divine Source of the healing energies which were now flowing through her.  For one who formerly had no belief in a Higher Power, the revelations were transformational and gave her the faith that has sustained her from that day forward.  But note:  she is not a faith healer – clients do not need to share her belief system, nor does she speak of it unless invited.
Cross-roads and Choices
The years that followed brought relentless challenge and change as she accepted her spiritual path.  From 1991 a healing practice was growing by word of mouth recommendation alone, while by day she was a freelance translator and interpreter, but soon it proved difficult to balance the two activities.  When a long-term contract as freelance translator for the European Commission and Parliament arrived – involving frequent travel to Brussels and Strasbourg – she was at another cross-roads: it was not possible to walk those two paths at the same time.  The choice was between retaining her new-found inner peace, continuing to make a positive difference to people's lives and allowing the healing practice to become her full-time work, or staying on the old road of deadlines, adrenalin-highs, glamour, prestige, social acceptance and material security.  At a soul level her choice was already made.  Monica has been in practice as a healer and spiritual teacher for twenty-seven years.
Her First Love
Also a writer (having written her first poem at the age of seven), Monica has had articles, stories and poems published as well as an occasional column on healing and spirituality.  She is currently completing the first of several books which spring from her extraordinary journey.